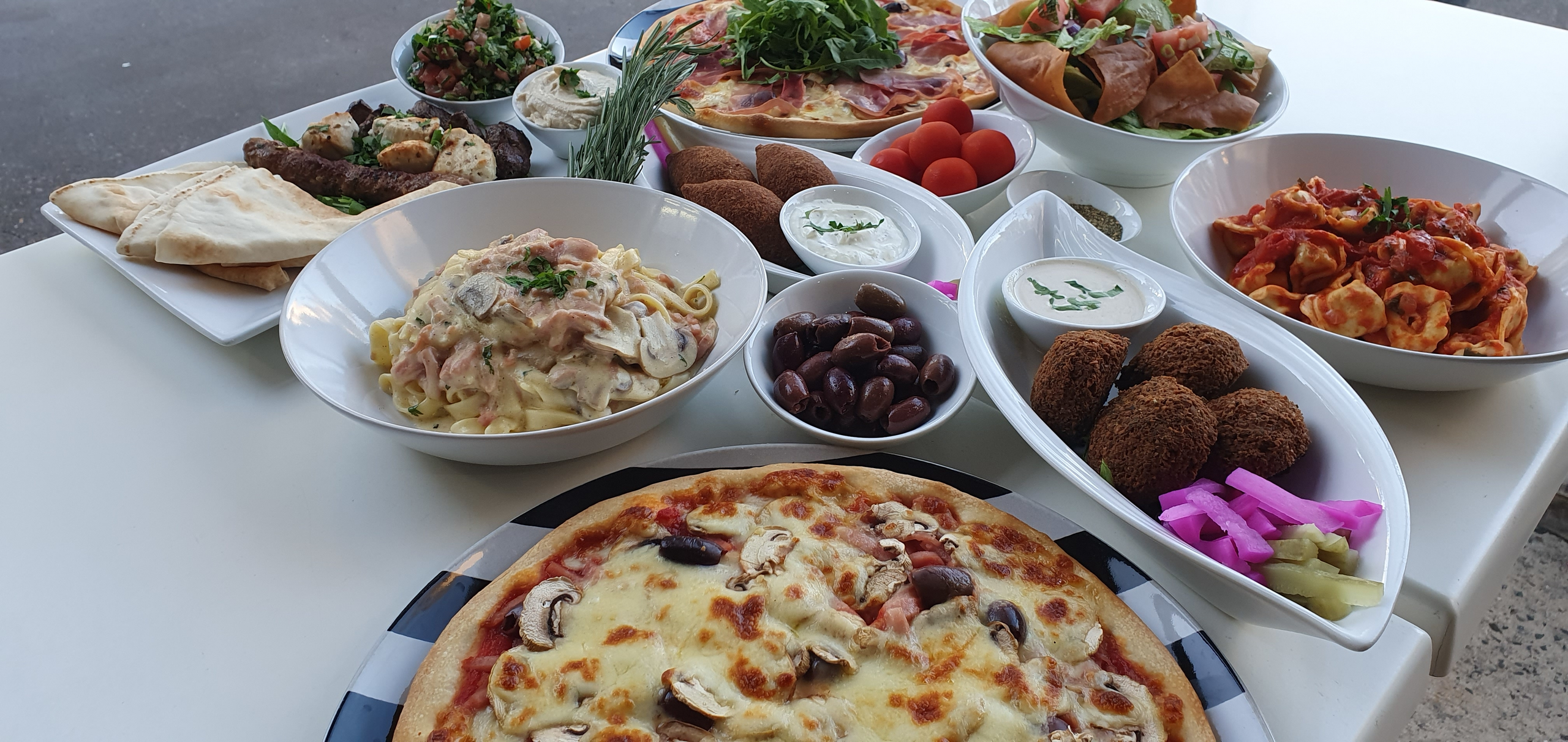 STARTERS
Garlic or Herb Bread $4.5
Zaatar Pizza (v) Combination of herbs, spices and toasted sesame seeds $10
Bruschetta (v) Tomato & Basil, Mixed Olives or Fetta Cheese $9
Soup from $14.5
Garlic Prawns Your choice of red or creamy white sauce Entrée: $16.5 Main: $21.5
Garlic Pizza (v) Reg: $17.5 Lrg: $20.5
Garlic Pizza with Cheese (v) Reg: $18.5 Lrg: $22.5
SALADS
Garden Salad (gf, v) Sml: $12 Lrg: $14
Greek Salad (gf, v) Sml: $12 Lrg: $14
Rocket Salad (gf, v) topped with Pecan Nuts and shaved Parmesan $14.5
Warm Mediterranean Chicken Salad (gf) sprinkled with nuts $21
Warm Char-Grilled Vegetable Salad (gf, v) with Fetta & nuts $21
Warm Prawn Salad (gf) sprinkled with nuts $21
LEBANESE
Dip Plate (v) Hommous, Babaganouj, Minted Yoghurt & Breads $20
Ben's Special Mezza Plate for 2 Selection of appetizers to tantalise your taste buds $34
Fattoush (v) Garden salad and crisp Lebanese bread tossed with Roffy's secret dressing $15.5
Tabbouli (v) Parsley, tomato, shallots, mint, crushed wheat, lemon juice & olive oil $15.5
Hommous (gf, v) Chickpeas blended with tahini, lemon, garlic drizzled with olive oil $15.5
Babaganouj (gf, v) Smoked eggplant blended with tahini, lemon & garlic drizzled with olive oil $16.5
Falafel (gf, v) (4) Chickpeas and broad beans blended with herbs & spices served with tahini sauce and homemade pickles $15.5
Vine Leaves (gf, v) (6) Grapevine leaves rolled with rice, herbs and spices $15.5
Kibbi (3) Crushed wheat & lean lamb filled with mince and onion $15.5
Sumbousic (3) Homemade pastries filled with mince and onion $15.5
Cheese Sumbousic (v) (3) Short crust pastry filled with a blend of four cheeses with herbs $15.5
Pumpkin Kibbi (v) (3) Pumpkin & crushed wheat shell filled wit hspinach, chickpeas and caramelized onion $15.5
Spinach Triangles (v) (3) Soft pastry filled with spinach, onion, tomato, sumac, and lemon juice $15.5
Kafta (gf) (3 skewers) Lean minced lamb, onion & parsley served with hommous & tabbouli $23
Lamb Kebabs (3 skewers) Marinated & grilled lamb served wit hminted yoghurt & tabbouli $26
Shish Tawook (3 skewers) Marinated chicken served with homemade toum (garlic aioli) & tabbouli $26
Bud's Special 1 Kafta, 1 Lamb, 1 Shish Tawook served with hommous and tabbouli $26
Chicken Rice (gf) Traditionally spiced mince & rice topped w/ shredded chicken, roasted almonds, pine nuts $24
Matt's Special A hot and cold platter for 2 with a selection of dips, mezza & grills $79
TRADITIONAL PIZZAS
Reg: $21 Lrg: $25
Hawaiian Ham, pineapple.
Margarita (v) Salsa, cheese.
Mushroom (v) Mushroom, salsa, cheese.
Napolitana Anchovies, olives.
Reg: $22 Lrg: $26
Capriciosa Ham, mushroom, olives.
Continental Prawns, mushroom, cabanossi, garlic.
Meat Lovers Cabanossi, ham, pepperoni, beef, bacon, BBQ sauce.
Mexicana Pepperoni, capsicum, onion, chilli.
Pepperoni Mild pepperoni, olives.
Potato Pizza (v) Potato, rosemary, olives.
Seafood Mixed seafood, garlic, parsley.
Supreme Ham, cabanossi, onion, capsicum, mushroom, pineapple, olives.
Vegetarian (v) Onion, mushroom, capsicum, olives, pineapple
GOURMET PIZZAS
Reg: $23 Lrg: $27
BBQ Chicken Chicken breast, BBQ sauce, onion, mushroom.
Calzone Your choice of pizza filling enclosed and topped with salsa and cheese.
Chicken Delight Chicken breast, avocado, onion, capsicum, sweet chilli sauce.
Garlic Chilli Prawn Pizza Garlic chilli prawns with cherry tomatoes topped with fresh rocket
Mediterranean Lamb Minced lamb, spanish onion, tomatoes, mixed spices, parsley, red wine. Served with a side of yogurt.
Noi Due (v) Char-grilled eggplant, marinated artichoke, sundried tomato, bocconcini, mushroom, olives.
Rocket Pizza Prosciutto, bocconcini, mushroom, olives, topped with fresh rocket
Per extra topping $1 · Per extra seafood topping $1.5
Add $1 for half-half pizzas
Gluten Free Pizza Base - $3 extra
MAIN COURSES
Beef Lasagne served with salad $24
Grilled Chicken Breast Fillet (gf) $25
Pan Fried Veal (gf) $26
served with a sauce & salad or vegetables
Mushroom Sauce: Mushroom in a creamy white sauce.
Mexicana Sauce: Red sauce with pepperoni, capsicum and onion.
Napolitana Sauce: A traditional tomato and basil sauce.
Boscaiola Sauce: Ham & mushroom in a creamy white sauce.
Parmigiana: Eggplant and melted cheese topped with napolitana sauce.
Chicken Schnitzel Served with salad or vegetables (with a sauce - $2 extra). $26
Veal Schnitzel Served with salad or vegetables (with a sauce - $2 extra). $27.5
RISOTTO
Chicken & Mushroom (gf) $24
Prawn (gf) $24
Seafood (gf) $24
Vegetarian (gf, v) $24
PASTAS
Spaghetti, Fettuccini, Penne or Gluten Free ($3.5 extra) served in a sauce of your choice
Arrabiata (v) Napolitana with chilli Entrée $17.5 Main $19.5
Bolognese Authentic homemade meat sauce Entrée $19.5 Main $21.5
Boscaiola Ham and mushroom in a cream sauce Entrée $19.5 Main $21.5
Carbonara Bacon, egg and parmesan in a cream sauce Entrée $19.5 Main $21.5
Curry Chicken Pasta Chicken breast in a curry rosa sauce Entrée $19.5 Main $21.5
Marinara Seafood, garlic and parsley in a red sauce Entrée $21.5 Main $24.5
Mexicana Pepperoni, capsicum, onion, chilli in a red sauce Entrée $19.5 Main $21.5
Napolitana (v) Traditional tomato and basil sauce Entrée $17.5 Main $19.5
Noi Due (v) Eggplant, artichoke, olive, mushroom in red sauce Entrée Entrée $19.5 Main $21.5
Tuna Tuna chunks, onion and mushroom in rosa sauce Entrée $19.5 Main $21.5
Vegetarian Pasta (v) Grilled vegetables, sundried tomatoes, artichoke, pesto & red sauce Entrée Entrée $19.5 Main $21.5
Tortellini with your choice of sauce Entrée $20.5 Main $22.5
Agnolotti (v) Pasta filled with ricotta in an olive & sundried tomato rosa sauce Entrée $20.5 Main $22.5
BEVERAGES
Natural Spring Water / Soft Drink Cans (325mL) $4
Ginger Beer $5
Soft Drink Bottles $6
Iced Coffee / Iced Chocolate $5
San Pellegrino $6
Lemon Lime & Bitters $4
Affogato $6.5
Short Black / Macchiato $3
Cappuccino / Flat White / Latte / Long Black $3.5
Hot Chocolate $3.5
Pot of Tea $3.5
DESSERTS
Chocoholic - Chocolate mud cake served with chocolate gelato and king island cream $7.5
Sticky Date Pudding served with vanilla bean gelato and butterscotch sauce $7.5
Warm Apple Pie served with vanilla bean gelato $7.5
Tiny Treasures - bite sized biscuit, turkish delight & baklava $4.5
Knefe - baked custard with pistachio & drizzled with an authentic rose water syrup $6.5
Nutella Pizza (medium) served with fresh strawberries, vanilla bean gelato and dusted with icing sugar $17
Giotto Gelato choice of vanilla bean, chocolate, hazelnut or lemon sorbet $5/scoop
Giotto Gelato Desserts $7
Mini Gelato Cone $2
$2.5 Corkage per person
$1.5 Cakeage per person
gf – Gluten Free
v - Vegetarian
Additional menu items can be made gf